What does it matter if parents don't have the time or energy to talk to their one-year-old child or read her a book? It matters because children's cognitive development is closely linked to the number of words they hear.
A study in the US (The 30 Million Word Gap) found that in terms of words heard, a child in a welfare family has less than a third of the experience of a child with professional parents. Moreover, what the welfare child does hear includes far more prohibitions and less affirmatives.
There is a broad agreement among researchers about the crucial importance of the first years of life for child development. The gaps that appear by age 3 between children growing up in beneficial vs. unfavorable environments are almost impossible to close later on.
The impact of socioeconomic background on the achievements of children is clearly seen in the graph below.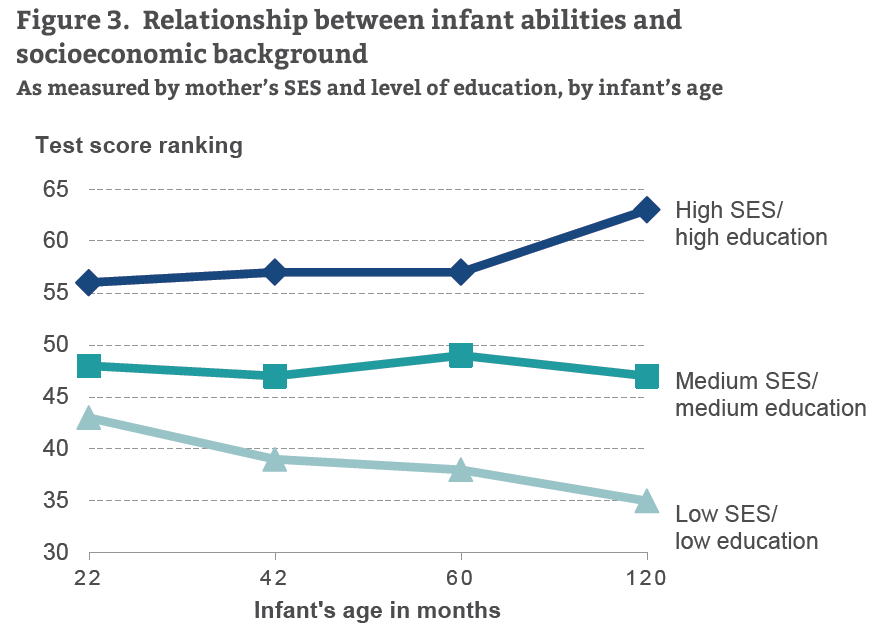 Early childhood education and care (ECEC) settings are a significant part of the child's world, with a long-term impact that is reflected, for example, in their school performance. The graph from a study based on PISA scores (Early Learning Matters) shows how ECEC participation affects proficiency in reading, math and science at age 15.
Even though everyone recognizes the critical need for quality education and care in infancy, in Israel, state-supervised and funded education starts only at age 3.
The good news is that several initiatives were launched in recent years to improve the situation. This includes, for example, the establishment of the national Early Childhood Council; the "Good Start" program for young at-risk children in partnership between five government ministries and JDC-Ashalim; the Community-based Infancy Initiative in partnership between Rashi, JDC-Ashalim and the Ministry of labor and Social Services; and the approval of the Daycare Supervision Law, coming into effect next September.
Now, as part of Rashi's Springboard to Social Mobility plan, we drafted a policy brief with recommendations that aim to extend the state's responsibility for early childhood education, among them:
A longer paid parental leave

An educational framework for every child: enabling parents to send children to supervised daycare under the auspices of the Ministry of Education from the age of 6 months

Allocation of public budgets for the operation of multi-disciplinary early childhood centers in periphery towns

Counseling services to parents from a weak socioeconomic background